Compression Spring
Product Introduction

The compression spring is widely used by all industries, and is closely connected with many things we use in our daily life. Sizes range from as small as 0.1mm in diameter to super-sized springs over 50mm. With the proper design, springs can be used for many different functions, such as the throttle spring for cars and motorcycles, the clutch shoe spring, the pump spring, the brake shoe spring, the car door lock spring, electronic parts, mechanical springs, office chair springs and other types of hardware springs which are used to absorb impact and vibration energy. The "Spring Index" (D/d) is one of the important parameters in spring design. The smaller the D/d, the stronger the rigidity, and thus, the harder the spring. To intensify the performance mass of the spring, apart from superior machining performance, other important considerations must also be taken into account in the spring design, such as material selection, process molding, heat treatment, grinding, shot-penning, setting and surface finishing, as well as the spring's working environment and load.
Spring molding can be divided into two types. The first type is the Cold Chamber Spring Molding, which uses strength-adjusted materials (wire diameter, 0.1mm~13mm) that can accept processing. The second type is the Hot Chamber Molding, which uses strength-unadjusted rolling or forging materials to accept further molding in a Hot Chamber; after being heated, the set strength is achieved through quenching and annealing process.
* Specifications or drawings are welcomed and we will discuss further details with you (Unfortunately, our service does not cover the ordering of automobile parts.)
Production Photos :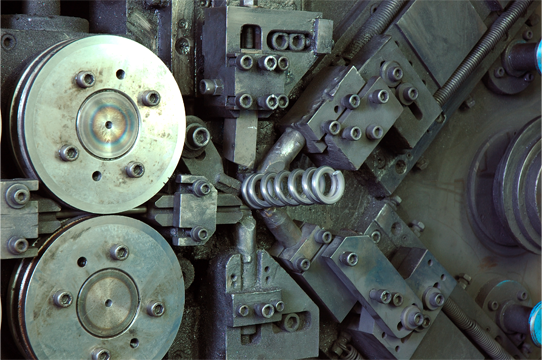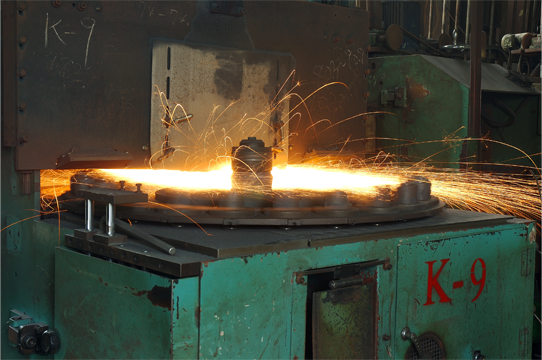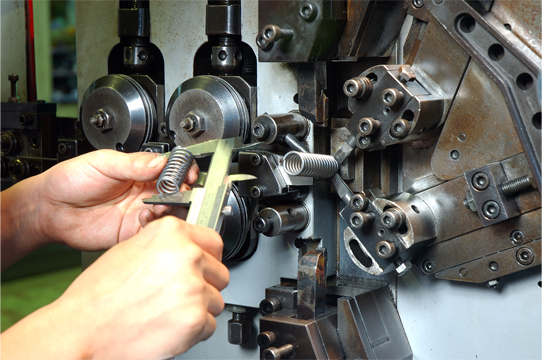 Note :
setting :

Setting is the process of compressing the heat-treated compression spring to a level below the working limit load, to stabilize the spring's geometrical size.

Shot-Penning :

Shot-Penning is the method of producing usable compression residual stress on the surface layer of the spring, so as to intensify its fatigue strength. This method depends on the size of the spring.